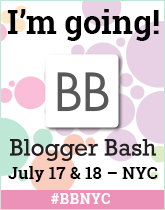 I just got off the Megabus from Philly to NYC. Now, I'm treating myself to lunch (free wi-fi!) and hanging out until I can check into my hotel. Really, this whole trip is a special treat for me–two days off work, a trip to NYC, an overnight hotel stay by myself, and a day and half of learning about new toys and products with some of the most interesting bloggers from across the country.
It's a little bit stressful to be away from work–it's a busy time of year (isn't it always?)–but I think it's important to have "me" days every once in a while. (A special thank you to my husband who encouraged me to go and didn't make me feel guilty for a second, even though he'll have to be on kid duty by himself two nights and one morning.)
If you follow me on Twitter and Instagram, you're sure to see an explosion of Blogger Bash hashtags (#BBNYC) and other brands over the next 30 hours. I've never attended an event quite like this, and I'm excited. I hope you'll follow along.
Related posts: